Blog: Where human emotion meets artificial intelligence: "Marjorie Prime" – Santa Fe New Mexican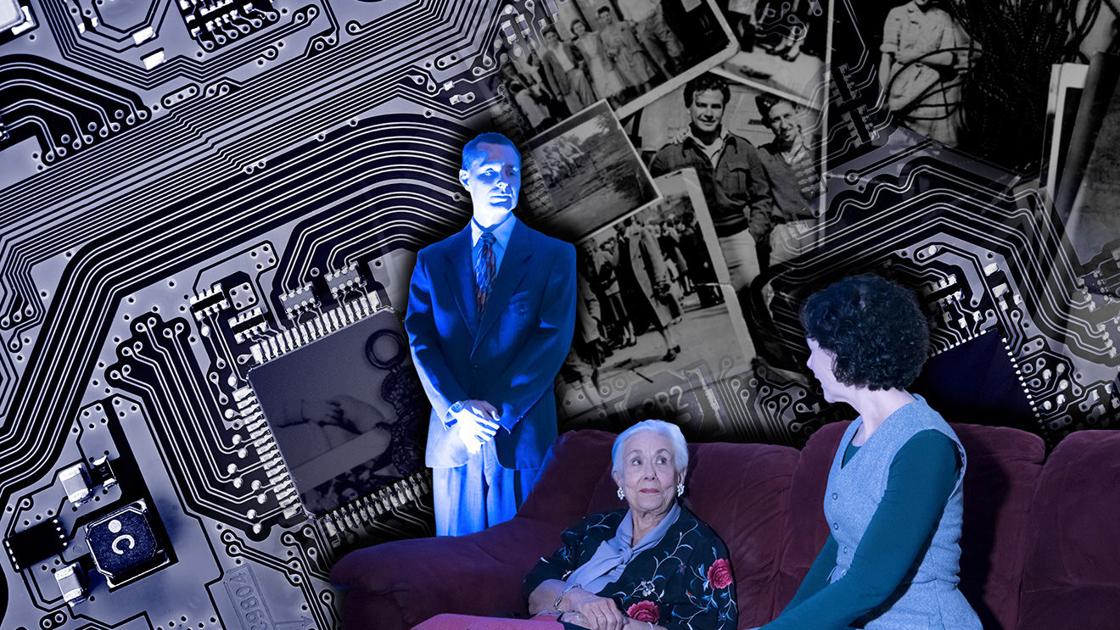 It's 2062. An elderly woman sits with a younger man and reflects on her life. She speaks of her husband, her daughter, and a dog she once loved. In this vision of the not-too-distant future, technology has proceeded apace, giving us enticing new possibilities for enshrining our memories: A form of artificial intelligence, far beyond the capabilities of Alexa or Siri, can be programmed to function as a loved one.
Not much more than this wisp of a plot summary can be revealed about Jordan Harrison's Pulitzer Prize-nominated play, Marjorie Prime, without spoiling the story's twists and turns. Thematically, Harrison wrestles with the longevity of love, the stability and malleability of memory, and how we craft our histories to suit our own needs. One of the play's central questions concerns the collision of technology and reality: Can fragments of the past reliably create a person out of thin air? And is emotional projection, no matter how lifelike it might seem, ever truly fulfilling?
"The play is about humanity as we know it, and about artificial intelligence, but it's not really science fiction," said Duchess Dale, who directs a production of Marjorie Prime at the Santa Fe Playhouse, opening Thursday, May 2. "I've been calling it 'advanced humanity.' "
Marjorie (Carolyn Wickwire) is a classical musician who was married to Walter (David Ballowe), a much older man. She loved him, but the sense that she settled for something less than what she wanted permeates the play. It's obvious that as her daughter Tess (Karen G. Ryan) takes care of her aging mother, a lifetime of resentments bubble to the surface. A source of tension: Tess and her husband, Jon ( Jeff Nell), disagree about the potential of artificial intelligence. He sees a new frontier, while all she sees are the limitations of a computer, which can only know as much as its programmer.
"Jon is a mensch. He's the heart-space, the catalyst, for the family," Dale said. "I'd love to know what happens to him after the play."
Marjorie Prime premiered off-Broadway in 2015 with Lois Smith (Lady Bird) in the title role. New York Times theater critic Ben Brantley described the play as a thoughtful and quietly unsettling drama, adding that remembering isn't easy as the brain ages "and the past covers more and more years. We edit, we distort, we censor; we select, we discard, we reshape, until memory becomes myth."
Smith reprised the role of Marjorie in the award-winning 2017 film adaptation that also starred Geena Davis, Tim Robbins, and Jon Hamm. But Dale said she avoided watching the movie so as not to be influenced by the choices made there. When told of the movie's somewhat mannered approach to the material, Dale shook her head and said she preferred to emphasize the naturalness of the plot.
"I think this play has a shot at rocking people to the core at different levels. There's the futuristic idea about relationships, but it's also about those long relationships in general — mother and daughter, husband and wife," she said.
"People watch their wedding videos and home movies over and over. People make videos before they die, telling their spouses how to do the laundry. But they didn't do this in previous generations. They had a photo on the mantle. What is presented [in Marjorie Prime] feels possible. And uncomfortable." ◀
▼ Marjorie Prime by Jordan Harrison, directed by Duchess Dale
▼ Thursday, May 2, through May 19; 7:30 p.m. Thursdays-Saturdays; 2 p.m. Sundays. A talk-back follows the matinee on May 12.
▼ Santa Fe Playhouse, 142 E. De Vargas St.
▼ Tickets $25, with discounts available; opening night reception 6:30 p.m. Saturday, May 4 is $30; 505-988-4262, santafeplayhouse.org