Blog: Director analyses the nexus of freedom of expression, disinformation and artificial intelligence – WebWire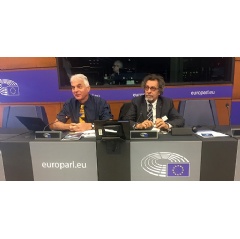 "Today, there is increasing interaction between the realms of freedom of expression and disinformation, and tomorrow AI will drive both of them within the wider ecosystem of the Internet," stated Guy Berger, UNESCO Director for Freedom of Expression and Media Development.
He was delivering a keynote presentation in the European Parliament chambers in Strasbourg this week to a conference of members of Orbicom, the network of UNESCO chairs in communication(link is external).
The association also marked its 25th anniversary this year, with a special dinner addressed by Moez Chakchouk, ADG for Communication and Information at UNESCO.
In his keynote, Berger highlighted the difficulties in the current state of freedom of expression by summarizing the findings of the UNESCO report on World Trends in Freedom of Expression and Media Development.  
He further assessed disinformation, with reference to the UNESCO handbook for journalism educators titled "Journalism, Fake News and Disinformation".
 "Disinformation not only deals in false facts, but is often combined with strong opinion and comment – which are not matters that can verified," said Berger.
He explained that disinformation cannot thrive in the face of credible and inclusive journalism, based upon high standards of verification. "Therefore the logic of disinformation requires it to attack journalism and target journalists, not just operate in parallel."
The evolution of AI will likely impact substantively on the existing picture of journalism and disinformation, because it is a technology that does not exist in the abstract "but is integrally linked to the contemporary political economy of the Internet."
If big companies and various state actors are currently shaping the Internet, the question is whether these groups would be able to continue to keep control as AI evolves along the lines of the current trajectory of power and current features of unpredictability and opacity.
"How we are using and what we are teaching this self-learning and self-propelling force that is AI will greatly shape the new ecosystem for expression," said Berger.
He pointed to a preview of research assessment that uses UNESCO's "ROAM" model to analyse the current directions of AI, and the implications for human Rights, Openness, Accessibility and Multistakeholder governance.
"The trends could see AI strengthening disinformation, while also being harnessed to attack journalists and complicating their ability to verify their content."
Whether AI could at all be used to strengthen journalism remains an open question, said Berger.
He proposed that potential problems could be mitigated by multistakeholder participation in developing "principles, norms, rules, decision-making procedures, and programmes" – as per the definition of governance adopted by the World Summit on the Information Society.
"We should avoid binary thinking that we face a choice such as between regulation and non-regulation of AI and the wider Internet ecosystem, or between authoritarian and democratic regulation," said the Director.
"Multistakeholder governance is an accepted UNESCO principle and it means a power-sharing model so that technology governance is not captured by a single actor, but is rather the result of interactions that bring common interests to the fore."
Berger further highlighted significant distinctions between options in governance – such as norms and rules for industry structure, taxation, transparency, privacy and expression. 
An ethical instrument on AI, if agreed at the General Conference, would necessarily refer to values, which in turn rest upon principles, said Berger. "It can be noted that UNESCO Member States have already reached consensus on the ROAM principles which could be helpful," he said.
During discussion after the remarks, interest was expressed by Orbicom members in helping to develop appropriate specialized indicators and formats for Member States to consider, for the purposes of monitoring and reporting should an instrument be adopted this coming November.
Source: "artificial intelligence" – Google News
(Visited 4 times, 1 visits today)